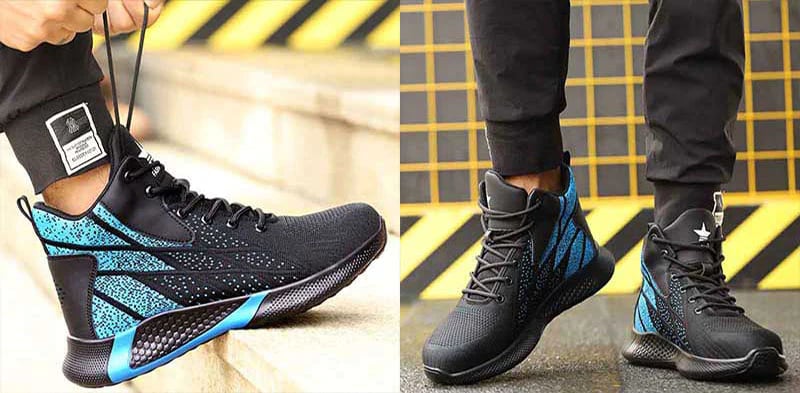 On the hunt for the coolest, comfiest and sleekest safety work boots on the market? Meet Mercury Blue.

Crafted from premium materials with the perfect blend of safety, comfort and style, these world-class safety work boots are built with next-level innovation that'll step up your shoe game this year. From steel toe protection to energy absorption, these steel toe boots genuinely have it all.
STEEL TOE PROTECTION
Stay protected no matter what with our advanced toe protection design that affords your feet the protection they desire and deserve. Crafted from premium steel materials, these boots withstand sharp, pointed or heavy objects with brutal force. Plus, the rubber edging and anti-rust paint offer lasting durability and total comfort.
KEVLAR PUNCTURE-PROOF MIDSOLE
The Kevlar puncture-proof midsole is ideal for construction work with added support and shock absorption, and the flexible and puncture-resistant Kevlar midsole offers outstanding underfoot protection. These boots meet safety standards of midsole that meet the needs of those who work in demanding environments.
LIGHTWEIGHT, FLEXIBLE & BREATHABLE
Crafted from lightweight, soft and flexible yet seriously durable materials, our Safety Work Boots are inspired by an athletic design with casual fashionable boots that makes them look as good as they perform. Ultra-breathable, they feature a linen upper that is moisture-absorbent with superior breathability, perfect when you're on your feet all day.
ANKLE PROTECTION SUPPORT
These safety work boots have a padded collar that provides you outstanding ankle support, and you will never feel stiff on the heel. With ankle protection, you feel safe and comfortable for your daily working life. Your challenging time of working will be fantastic and easy too.
TIMELESS DESIGN
These steel toe work boots feature the perfect blend of comfort and style. Combining military-grade materials that are perfect for everyday use, fused with a fashionable design that can easily be sported inside and outside work – they're made for every occasion.
SLIP, OIL & WATER-RESISTANT
Crafted from anti-static and durable materials with a super-grippy outsole, these boots feature a premium anti-slip design, oil-resistant traction using micro-glass filaments when walking on wet or oily surfaces, as well as a water-resistant outer that will keep your feet cool and dry the entire day!
MAXIMUM ENERGY ABSORPTION
The energy absorption of these men's work boots comes with ultra-comfortable cushioning with a dual-density, shock-absorbing footbed that perfectly cushions every step. The seat region massages your feet as you walk and promotes greater blood flow to reduce muscle fatigue.